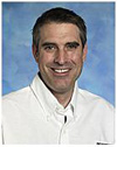 Mark E. Olson is President and COO of Future Forensics ™. He has over 28 years experience in the collision repair industry, including roles as a collision repair and refinish technician, body shop management and ownership.  He has also worked as an independent physical damage appraiser and as an insurance Auto Damage adjuster.  
Mark is a certified instructor with the Inter-Industry Conference on Auto Collision Repair (I-CAR) which teaches internationally to the collision repair industry on topics such as finding damage on vehicles and the proper repair methods for the damage caused by vehicle collisions. Mr. Olson is certified to teach 32 different disciplines of instruction within I-CAR. For the fiscal year 2002, Mr. Olson was voted instructor of the year for I-CAR in the Northwest Region. Mark has been active in the collision repair industry serving on many committees and boards. He has served in an advisory capacity to the Washington Auto Body Craftsmen's Association and the Lake Washington Technical College's Auto Collision repair department.
Mark is an ASE Master Certified technician and I-Car Platinum.   Mr. Olson has traveled all over the United States teaching for I-CAR and also coaching individual technicians and collision repair facilities on the proper repair methods in collision repair.  He is also a recognized industry AMI speaker - doing presentations for many groups including:  Collision Industry Conference, Coyote Vision Group, Chelsea Group, California Autobody Association, Autobody Craftsmen's Association (Washington), Ford Blue Oval program, Arizona Autobody Association, Georgia Autobody Association, National Autobody Collision Exposition (NACE) Nevada and Florida, Oregon Autobody Association and others.  Mark has worked and done seminars for over 5000 collision repair technicians in their shops on quality process in 26 states in the United States and also in Ontario Canada. Mark is also one of the founders of VeriFacts Automotive LLC, Integrity Automotive 3i LLC, CertiFacts Automotive LLC and Collision Coach. He is also a regional trainer for Hunter Engineering of Bridgeton MO.  His training centers include:
Seattle, WA,  Portland OR, SF Bay area, Los Angeles, CA and Hawaii.
Mark has also testified in well over 100 legal proceedings as an expert on such topics of proper vehicle repair, vehicle value, crash forensics, and collision repair issues including shop issues and many other topics.
Phone:206.362.2835
Mark@FutureForensics.com